I am turning forty in the very near future…
On the approach to forty, I've taken the time to reflect on everything that I managed to get done in my thirties. Taking this time to reflect on how lucky I have been in so many areas of my life has really allowed me to form a deeper appreciation for everything I have in life and over the course of writing this post, I feel I've become more in the moment with my family and appreciating the smaller things even more than before. It has been a great exercise.
The last ten years has been an absolutely beautiful whirlwind of amazing experiences. Looking at this list now, I am almost overwhelmed that I've managed to have all of these amazing things happen.
Happy reading!
Immigrated to the US
Around 2013 I discovered the US Diversity Lottery. This is a program run by the US government to bolster immigration from countries which are under represented in the outcomes of typical immigration.
It makes available 50,000 immigrant visas each year which are drawn at random per the number allocated to a given country. I've previously written about the entire process and my experience in this post. I strongly recommend reading this if you're at all interested in the prospect of moving to the US.
After being selected, it took almost a year to get the visa and after arriving in SF, I moved into a place called StartupHouse. This was basically an old factory building near the Tenderloin area with 80 or so bunk beds and a shared office space for everyone to use on the ground floor.
StartupHouse was an amazing experience and I got the opportunity to meet many like minded entrepreneurial types while living there. It also allowed me to meet a good cross section of other US citizens from all over the country which helped to gain a better understanding of perspectives outside of SF.
Living in a hostel style situation with others chasing their dreams was just amazing but unfortunately, the business shut down later on in 2017.
Love then Marriage then (many) Baby Carriages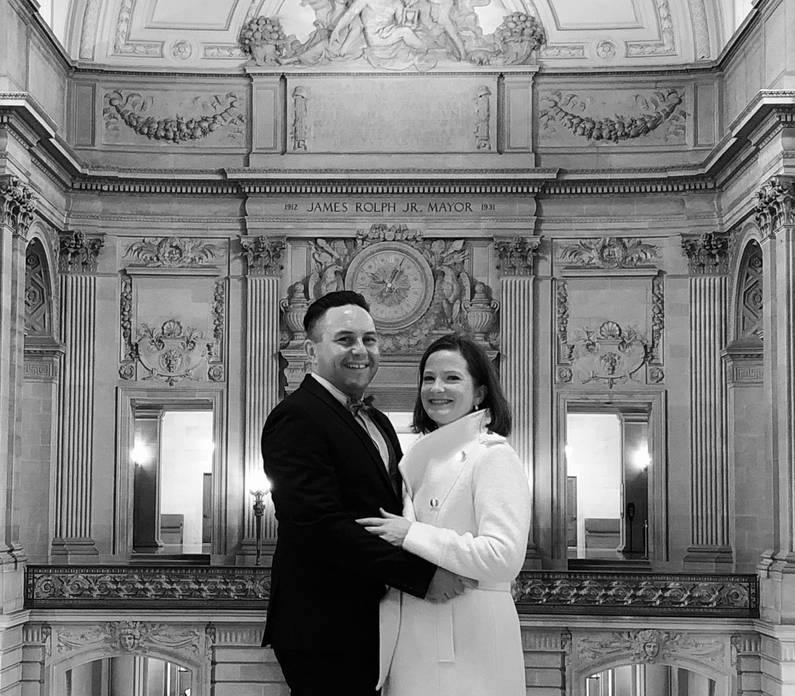 About a month after arriving in the states and talking online for a few days, Tracy and I met up for a very 'romantic' lunch hour date at a place called Thirsty Bear. We hit it off well, even in the weirdness of a first 'date'. We probably had one round too many for a work day lunch and both went back to work late so things went well I guess??
Things have moved quickly for us since then…
Not long after we met, I moved into Tracy's studio apartment which, in hindsight, was too small for the both of us and Tracy's dog Dakota.
In 2018 we got a second dog Shea and moved to Walnut Creek getting a lot more space for the price compared to what is available in the city.
2019 we got married in the beautiful San Francisco City Hall in a small ceremony on Valentines Day and also welcomed our first son Jack into the world.
In 2020 we moved to San Jose betting on my plan to get a job with a FAANG or large tech company. We also welcomed twins Patrick and Anna. When I turn 40 in the next few weeks I am going to have three children under the age of 16 months.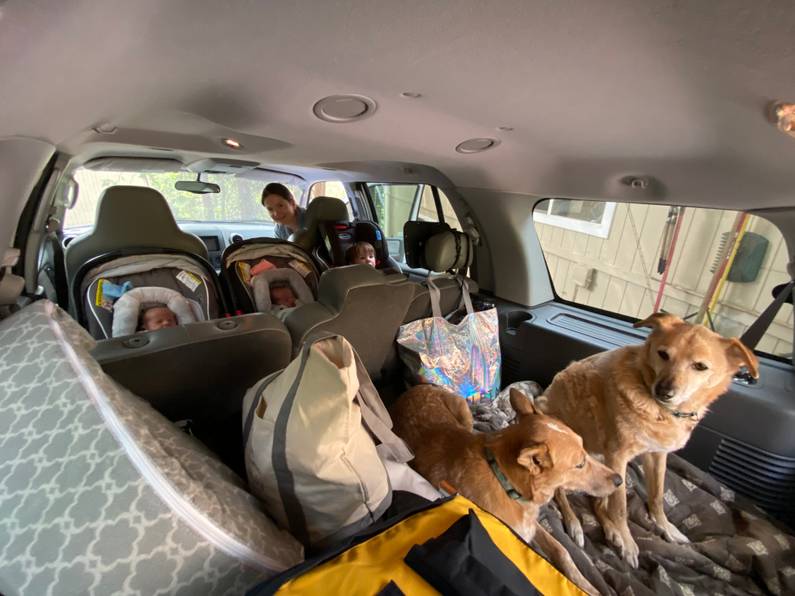 Tracy is emotionally and intellectually intelligent, she is not only my wife but my best friend and can make me laugh like one. She is kind and forgiving, but can also be fierce and powerful when it is needed.
She is an amazing mother to the point where I doubt my abilities as a father, and she gets this from her amazing family who have welcomed me and now treat me as one of them. She is also extremely supportive. So much of what I have done over the last few years I could not have done without her. This is not standard rhetoric either, she supported the entire family financially for the first half of 2020 while pregnant with Patrick and Anna, while I worked on gaining a FAANG job.
Every day for me now is a dream with the family (this might be due to the lack of sleep??). Numerous times a day Tracy and I get to experience amazing, heart melting moments with these three little ones and one another. I couldn't have been any luckier to have found her.
Career
I originally started writing this section of the post and it grew to be it's own post Reflecting on my thirties: My huge career change.
Heading into my forties, what I am now getting paid in my full time role is almost exactly 10 times the value of what I was getting paid in my full-time role 5 years ago. I have spent a huge amount of effort and focus on my craft since rediscovering coding just after my thirtieth birthday and I hope my story serves as inspiration to others who wish to chase bettering themselves and achieving beyond what they think is actually possible, into areas they haven't even imagined. If I can make it happen, anyone can.
Health
Just after my 39th birthday last year I managed to run three half marathons (21km) in the space of three weeks which I was pretty happy about.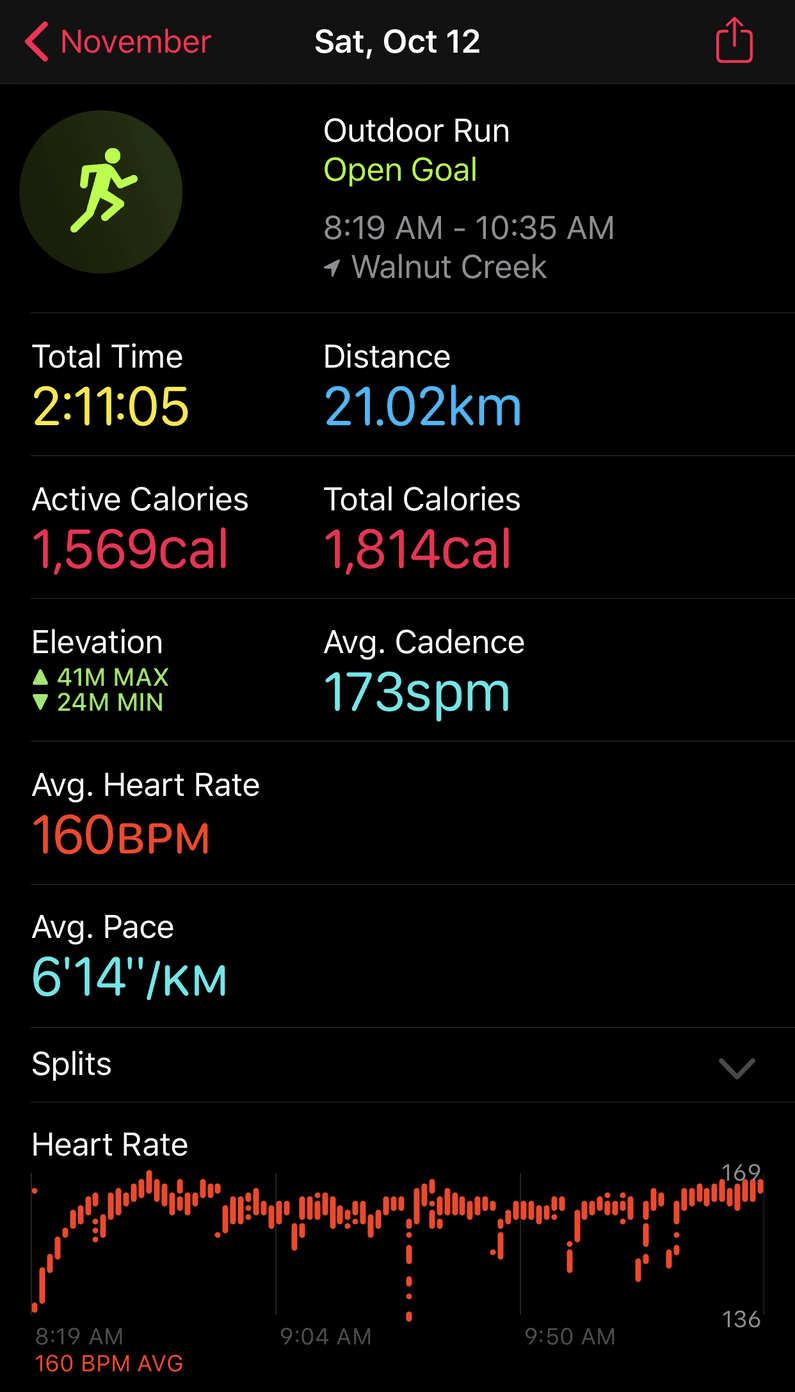 My best time was 2 hours 11 minutes (6:14 per km pace) which is by no means fast, but still requires some good endurance to be able to do.
We were living in Walnut Creek at the time which has some amazing tracks following the canals in the area, which have next to no gradient. I was also getting out and doing 8km and 5km runs often, as well completing about 100km in the month prior to doing the three 21kms.
It felt good to get to this level of fitness. Prior to this, I'd never run more than a 5km and that was back when I was in basic training with the Australian Army.
In saying this though, my weight and physique did not match my fitness level! It is definitely harder to lose belly fat as you get older for sure.
Traveling
I managed to do a lot more travel than I actually realized during my thirties. I love traveling, both in an international sense and also with with road-trips. By a rough count, I visited 22 countries during my thirties which is not a bad tally.
The following are some of the highlights of the last ten years.
Caravaning
A few days after my thirtieth birthday I left Newcastle and started heading up the coast in a caravan I had bought a few months earlier. I had negotiated with my employer at the time to go fully remote and had managed to get to a point where they were ok with me working from anywhere so I took full advantage.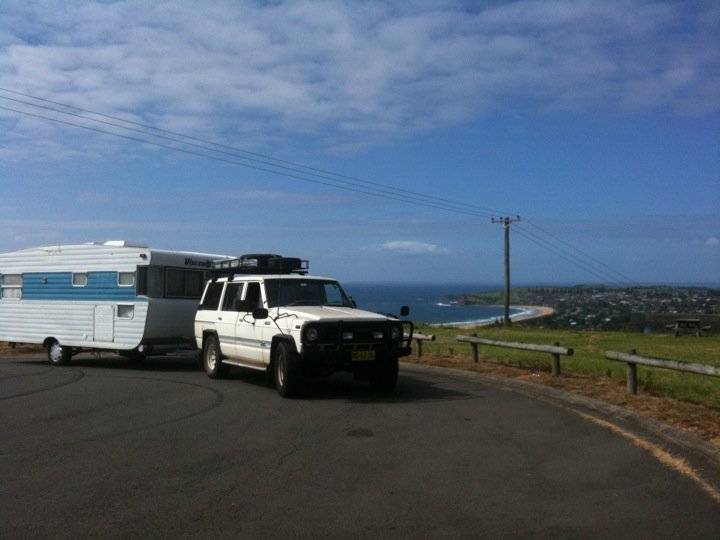 The freedom of this form of travel, taking your 'house' with you, is something I can not explain, and I miss having that caravan even to this day, more so than I should. I managed to get as far north as the Daintree forest, spending significant time in Airlie Beach, Bundaberg and Cairns before meeting up with my friend Marty and heading back down the coast.
I stopped in Newcastle for Christmas before continuing down to Melbourne on the coastal route with another friend Drew, staying in Melbourne for a little while before heading back to Newcastle due to a few business meetings I needed to be at. All up, the trip was a minimum of 7400km (about 5000 miles).
Living in London
I moved to London for about 6 months in 2012 during the Olympics and the Queen's Diamond Jubilee. London was absolutely alive and buzzing and it was a great time to be living and working there.
Papua New Guinea with Rotary
I travelled to Nondugl in the Papuan Highlands in 2013 with Rotary International. This area of the world is still very underdeveloped compared to the rest of the world with tribal rule still playing a major part. I saw some things on this trip that are hard to talk about, but it helped to reinforce my views on how we fix inequality in the world.
My plan on this trip was to get the computers running in the library (that you can see in the above video) that had been supplied on a previous Rotary trip. Unfortunately, I found that the issue all of these machines faced was not software but hardware, with the motherboards having corroded in the wet highland air.
US travel
Over the last ten years, I've been in and out of the US a few times, even before immigrating here. All up, I've visited 7 of the West Coast states, and 8 of the East Coast as well as D.C.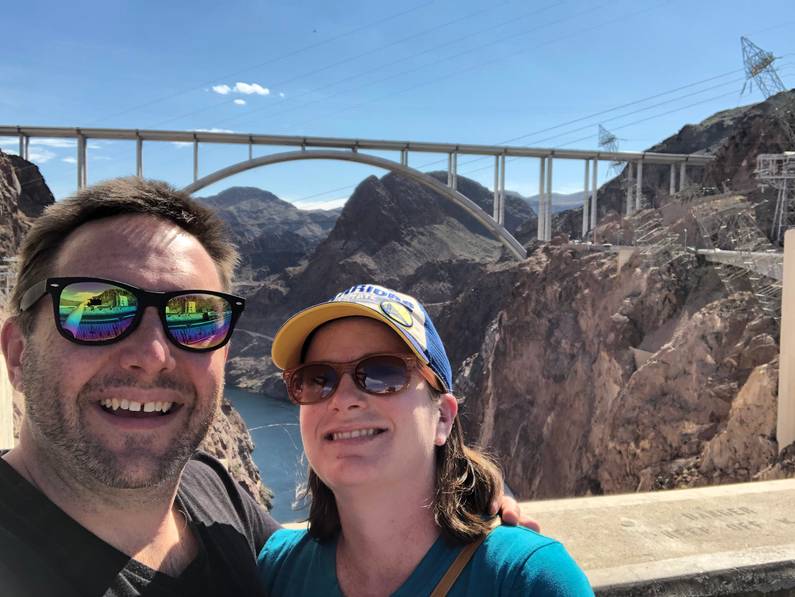 I especially enjoyed:
The Grand Canyon (I've been there twice now)
The Everglades and the road-trip down to Key West in Florida
Niagara falls (Have also been here twice)
Yosemite (I think I'm up to 5 visits at this point)
The Pacific Coast Highway of Northern California
New York (Who doesn't enjoy being in NY?)
European Travel
I took two bus tours around Europe during my thirties, one lasting ten days, the other lasting almost 3 weeks. Both were great trips and I feel bus tours provide so much more value than the 'do-it-yourself' style of trip. No stresses about bookings, directions, communication with locals or researching areas. It's typically all just observation and experience.
Highlights here include:
Everything about Switzerland. The views, the houses, the sound of the cows, the trains, the people, the geography.
The beer halls of Germany. One of my possible retirement plans is to resurrect my tuba playing skills and see my days out playing in a beer hall band, drinking German beer and eating that delicious food.
Amsterdam. Take the Mary Jane and the sex industry out of Amsterdam which it's known for and you've still got an amazing city.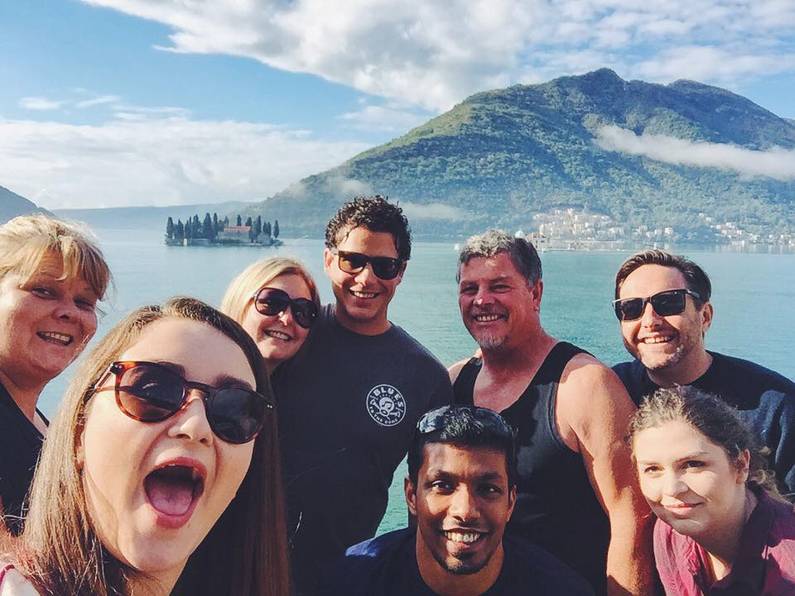 Dubrovnik in Croatia and Kotor in Montenegro. I found these cities to be just fascinating.
Seeing Michelangelo's David. It's one thing to draw in 2D and paint, but to be able to visualize form in three dimensions and create something by the process of removal with no recourse to correct mistakes… It just blows my mind. And he has a great butt.
I captured a number of 360 degree photos throughout Europe in 2016 that you can see here
Surprizing the parents at Heathrow
In 2016, my Mum and Dad took a trip to Europe and planned to visit my Dad's sister in England for about a week before returning to Australia.
Once I found out about their trip, I talked with my brother and floated the idea that it would be great if we could surprize them when they arrived at the airport. We figured that it may be the last real chance we got for a family holiday, so my brother Adam, his girlfriend Mel and I all booked flights to London.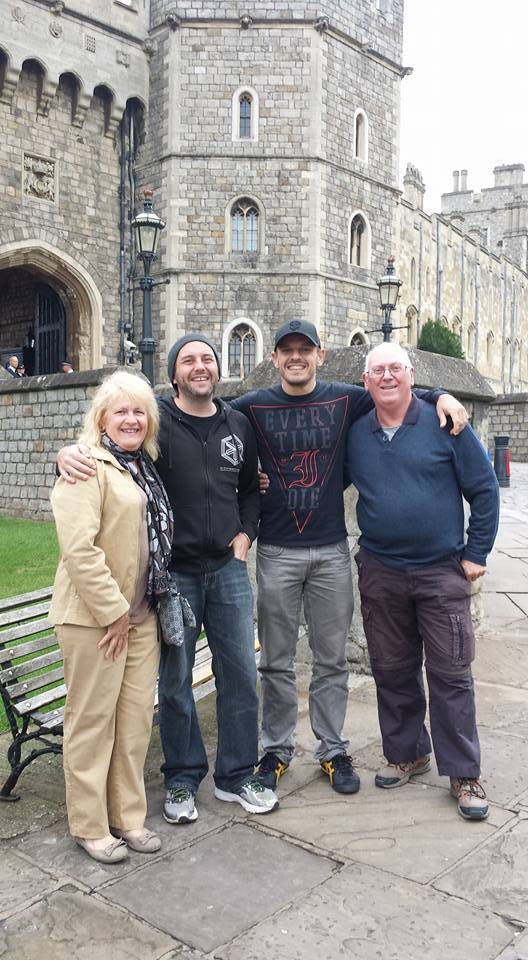 The three of us chose to arrive a week earlier than the parents arrival, so we got to spend some good quality time together exploring London. At the time of writing this post, I haven't actually seen my brother for almost two years. I have been living in the US for almost three and a half years and he and Mel have been living in Thailand for almost two. We grew up close and have remained so in adult life, we talk often and keep very much in contact and so it was good to get to spend this time together. His girlfriend Mel is great and part of the family already too, so there was never the concept of a 'third wheel' when it was the three of us (well from my side of it at least!).
On the morning of the parents arrival, we took the tube out to the airport and wagered what reaction we'd receive. My prediction; Mum would be in utter disbelief, Dad would be an emotional, crying mess.
I was totally correct.
The following week was a good mix of further sightseeing, catching up with extended family and eating and drinking, lots. Spending this time together as a family was very special, especially spending time with and experiencing Dad, a born and bred Londoner, within his native country. This was the first opportunity Adam and I ever got to have a proper English pint in a proper English pub with Dad and I hope we get the opportunity to do it again in the near future.
At the end our week together, I rented a car and drove up to Scotland for a two week Airbnb working holiday, exploring the distilleries and just driving aimlessly around the picturesque highlands in the time I could afford. I was finally taught how to drink Scotch properly (it absolutely does not include the use of ice) and I really want to head back sometime with a focus on hiking some of the amazing trails Scotland has to offer.
After returning the car to London, I then set out on a three week bus tour around Europe which I've discussed elsewhere.
All in all, this entire trip was one of the best of my life. I definitely needed a week or two of down time once I returned to Australia just to get back to my normal levels of energy.
Road trips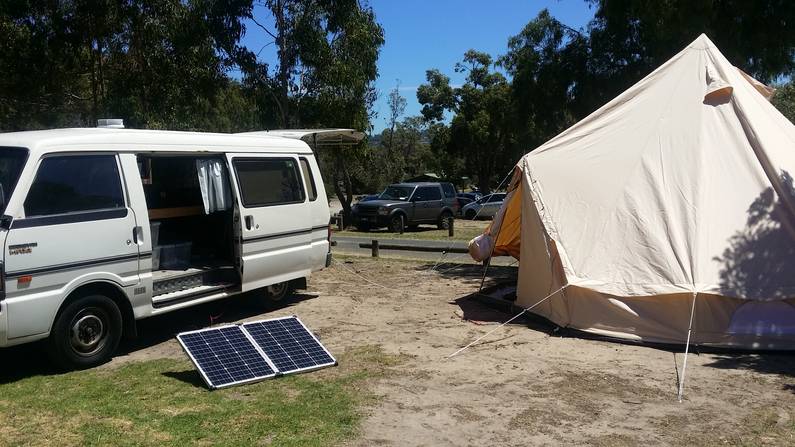 Long distance driving is something that I am very fond of. The mix of being able to experience new places and scenery combined with an enforced, somewhat meditative, somewhat 'focused thinking' time just clicks with me. I often uncover and develop many new ideas and perspectives while on the road, but I feel with three young kids, the future looks somewhat bleak with this form of travel…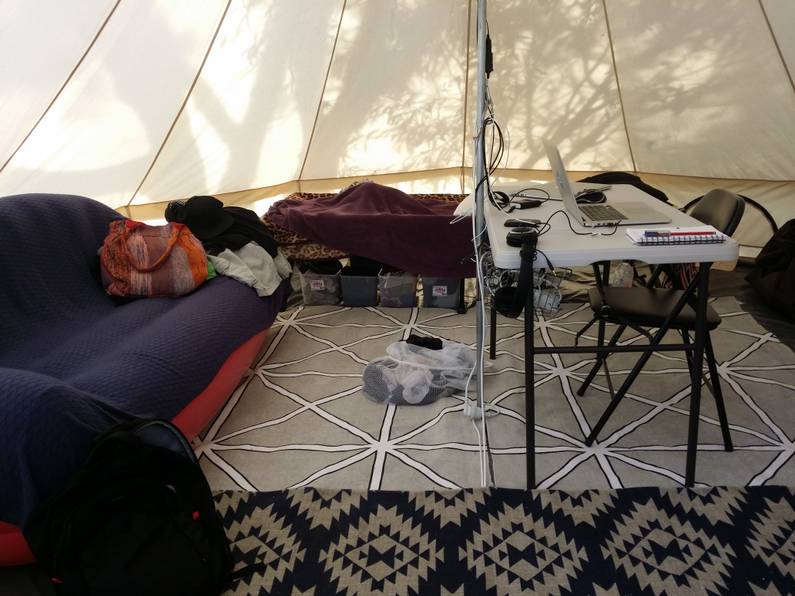 Here are a few of the highlights from my thirties:
As discussed earlier, doing almost the entire Eastern Coast of Australia in my Caravan in 2010-2011 (7400km / 5000mi).
Driving to the Barossa Valley and back in 2010 for a friends wedding (3000km / 1850mi).
Driving to Cairns and back for the full solar eclipse in 2012 (5000km / 3100mi).
Travelling to country Victoria to visit friends and go skiing in 2013 (2000km / 1250mi).
3 trips to country Victoria for 2 Rainbow Serpent and 1 Earthcore festival (2200km / 1350mi each)
Drove back and forth between Melbourne and Newcastle at least 6 times and at least 2 trips back and forth between Newcastle and Brisbane over the course of my thirties.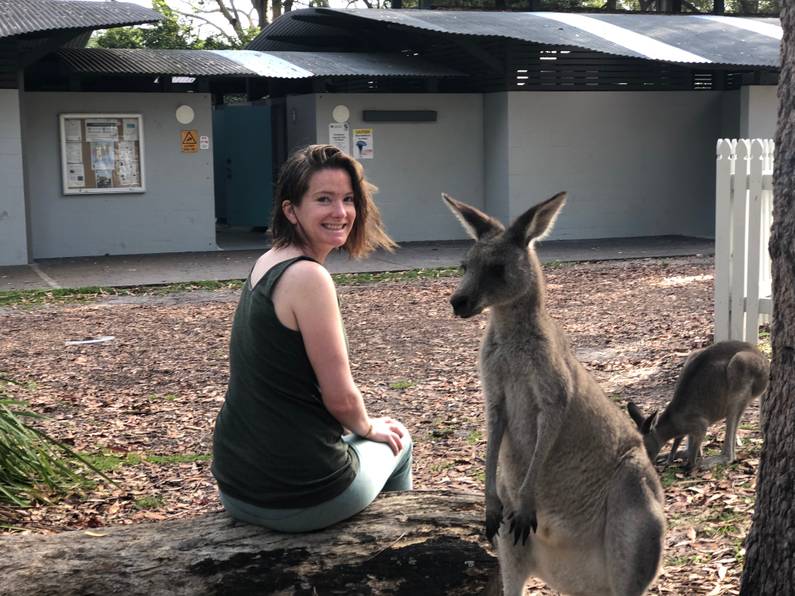 Driving the Australian coast with Tracy from Newcastle all the way to Adelaide, seeing Lakes Entrance, Wilsons Promontory and the Great Ocean Road along the way and then inland via Canberra on the way back in 2018 (4000km / 2500mi).
Taking the spectacular Highway 1 with Tracy from San Francisco up the Californian Coast into Oregon as our Honeymoon, getting as far north as Gold Beach in OR. (1600km / 1000mi).
Driving from San Francisco to Las Vegas, the Grand Canyon and Hoover Dam in 2019 (2200km / 1400mi)
Travelling up the coast with Tracy and Jack in 2020 as far north as 1770 ( Yes, it is a real place. ) (2400km / 1500mi).
Thailand for a working holiday
I took a 2 week working holiday to Thailand in 2015 and have never done such great work in such little time, ever. At the time I was working on a project for PWC and managed to put almost the entire project together in record time and at a great level of quality as you can see from the demo video here.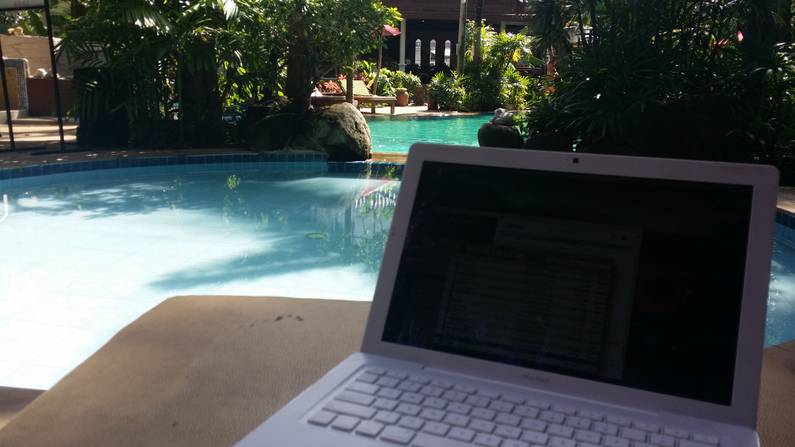 There is something about working by a luxury pool that sets my abilities to a very high gear. It acts less as a distraction and more of a clearing agent which is somewhat counter intuitive I feel?
I took a few days towards the end of the trip to get fully off the tools and do my Open Water Scuba Diver certification. The course was done off the eastern coast of Phuket Island out near Ko Phi Phi / Maya Bay and the experience was beyond anything I had ever even imagined.
I took to Scuba diving better than I expected, without any qualms or fears, although in hindsight, it may have had something to do with all that cheap, readily available Thai valium. The experience is otherworldly, beautiful and has the uncanny effect of bringing everyone participating together in that great shared experience kind of way.
Tattoos
I got three new tattoos in my thirties, each having a very strong meaning to me. Each one of them has a very strong message and story which is much better communicated in person so ask me next time you see me.
I'm also a fan of not just going down the road from where you live to get a tattoo. For me personally, you need to give it some story of how it came into being or an event to anchor it to. That's just my preference though.
Prior to turning thirty, I had two tattoos, each that I got in Indonesia. Yes, the lines aren't super straight, in fact the quality is terrible, but it's a mark of experience and I designed each of them myself, well for the most part at least. In full honesty, my first one is pretty ridiculous but I was younger and even stupider than I am today. It does make a great talking point about the bad decisions we make when younger and it's great for a chuckle.
For the new tattoos, I picked up one up in a small studio in Prague, another in the Red Light District in Amsterdam, and another in the middle of the Las Vegas strip. Each a great story in itself.
Bitcoin
In 2016, I had been using Bitcoin for a few different purposes and just messing around with it really. The blockchain concept is quite elegantly simple so understanding the system out of pure interest is the reason a lot of coders I knew where getting into it. And to buy drugs online, obviously.
Late in 2016 I saw the price start shifting upwards with a few smaller spikes and at that time I decided that it was likely something that would gain a lot of value over the next ten to twenty years as it gained more public use. My prediction based purely on demand (if Bitcoin became ubiquitous for small untraceable payments with average wallet value $100 x 3B internet users / 20 million coins) was for the resultant value to be between $10k to $15k. Based on this idea, I started buying it when I could, but as I was immigrating to the states at the time, I didn't have that much free cash.
Once I arrived in the US though, the price was starting rise faster than I was expecting so I started buying in as much as I could, even using debt. All up, I managed to get in $10k at a cost basis of about $2400.
Things started to really take off and get crazy in the later half of 2017. During the huge bubbling of the price (which was very enjoyable to be a part of), I decided that the take profit to aim for was $21.4k. This would allow both Tracy and I to pay off all of our debts at the time. The momentum in the market felt like it had the strength to get to this price.
Unfortunately, the market depth approaching the 20k mark was deeper than I anticipated and the rally fell short. A week or two later it appeared that the price was going to test 20k again but failed quickly at which point I got out. The sell basis of around $12k.
All up it wasn't a bad ~500% gain but still, it could have been a bunch more. It was a really good lesson about taking into consideration psychological price points in the market, that's for sure.
Other worthwhile mentions
There are a few other interesting things that I've got into over the last ten years worth mentioning.
VR
I've been absolutely fascinated by VR ever since trying one of these systems way back as a preteen.
A renaissance of VR came about around 2012 with the creation of Oculus Rift, and I finally jumped on board once I moved to the US getting a HTC Vive for Tracy for her birthday. Yes, it was just what she always never knew that she wanted!
Since then I've built 'Doom WebXR' which is a web version of all of the original Doom levels that operates online as a webpage. You can read more about this on my post Building a WebXR version of Doom, but as a preview, the VR experience looks like the following:
I've also spent a small amount of time getting into VR gaming with the highlight being 'Halflife: Alyx'. The experience of playing this game is something else, and pure escapism. I've also learnt a lot about live streaming over the last few years, and here is an example of what the experience of Alyx is like:
encrypt.chat
I built encrypt.chat with a few weekends work once I arrived in the states. It was a great project to learn about encryption and how to communicate securely on the web.
The product was technologically acquired silently for a small fee by a security firm in 2019 who graciously allowed the project to remain online.
Drones
My brother Adam and I spent a good lot of time and money building racing drones as well. This was a fantastic hobby to get into and is actually a lot less expensive than you might think.
Flying these things first person is so much fun but it takes a lot of practice to fly well. We never really got to a point of real racing, more it was a case of who could stay in the air longest, but as you can see, it's really something unlike anything else.
Wrap up
So much of the above has happened I believe due to totally neglecting social media and other bad spheres of influence.
It has come from putting the time into activities that pay off in the long run which I feel the internet and especially social media is influencing people to do less and less these days. Giving up on checking in on what everyone else is doing and disconnecting from unnatural broadcast styles of communication has allowed me to focus on the things that actually matter and make much better decisions.
Looking to the future, I'm setting some big plans to achieve in my forties. These I'll be sharing in another post shortly as I want to make them public so that I am more accountable to them.
For now, I hope you've enjoyed reading this post. It has been more for my own use, but I hope that it inspired you in some way to do something better in some small part of your life!